December 20, 2005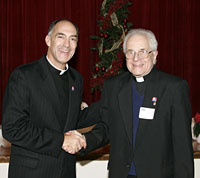 Colleagues celebrate the holidays
On Friday, Dec. 16, University colleagues gathered to enjoy the holiday season together at the annual UDM Employees Christmas & Colleague Recognition Celebration in the Student Center Ballroom. During the event, 91 employees (pdf list) were honored for their years of service at the University. Faculty members Gerard Albright, S.J, professor of Biology and Donald Jarnevic, associate professor of Philosophy, achieved the longest tenure of the group with 45 years each at the University. [View Photos]
UDM community spreads holiday cheer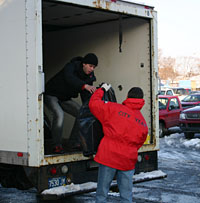 Through the annual Adopt-a–Family Christmas program, UDM employees and alumni adopted 47 families, comprising 178 people, to ensure a happy Christmas for these families. Leadership Development Institute Director John Daniels and retired Finance employee Corky Hall coordinated the program, including the collection and delivery of presents to the families at COTS (Coalition on Temporary Shelter). The truckload of collected gifts certainly reflected the Great Things individuals do at UDM.
Other Great Things include the Library staff participation in St. Gregory Parish Adopt-a-Family program, Alpha Phi Omega fraternity's collection and distribution of 300 blankets to those living on the streets, and Omega Psi Phi's sleepout on the Kassab Mall (in 25-degree weather) in support of Covenant House.
Through LDI's Shelter & Home Initiative, many staff participated in Freshman Orientation PTV service projects serving the homeless and poor; most Service-Learning faculty embrace this focus with hundreds of their students doing direct, course-related service.
Enjoy a safe holiday
Follow Public Safety's tips to stay safe this holiday season: www.udmercy.edu/facilitiesmanagement/newsletter
Merry Christmas and Happy New Year!