December 13, 2005
President presents University updates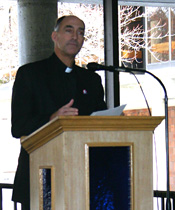 At the Dec. 8 Town Hall meeting, UDM President Gerard L. Stockhausen, S.J., highlighted a variety of University activities and announcements, including:
Program accreditation was received this fall for Undergraduate Civil, Electrical and Mechanical Engineering; Nursing; Nurse Anesthesia; and Advanced Education in Periodontics.
Enrollment for Term II is ahead of last year at this same time with 200 more full-time undergraduates enrolled and a slight increase in transfer students; 60 percent of current students are enrolled to date. Freshman applications, admits and deposits for Fall 2006 are also up from last year at this time.
Financially, the University expects a slight surplus in its net assets and cash for FY 2006. But the University's heating and cooling costs have increased, even with a number of energy-saving investments, including the installation of a more efficient chiller, a new boiler and a web-based energy management system. Everyone is asked to conserve energy where possible.
The Hines Company, UDM's real estate and construction consultant, is continuing to review numbers and design analysis of proposed projects. The work still requires several more months to finish. The University has also contracted with Albert Kahn and Associates to develop a master plan for the McNichols Campus based on the work of the Highest and Best Use Committee.
Shared Governance is proceeding with team meetings; the shared governance process will provide opportunities for input on the ongoing work of prioritization across the University.
Associate Professor of English Rosemary Weatherston received the 2005 Faculty Achievement Award and Professor of Biomedical Services Virginia Merchant received the 2005 Distinguished Faculty Award.
UDM Soccer teams had a successful season with the men's team winning the Horizon League and the women's team taking second in the league. Both men and women soccer coaches, Morris Lupenac and Mike Lupenac, were named Coach of the Year in the Horizon League.
UDM's Homecoming event is scheduled for Saturday, Feb. 25, 2006 with both the men and women's basketball teams playing that day.
A memorial mass in remembrance of Agnes Mary Mansour, the former president of Mercy College of Detroit, is scheduled for Friday, Jan. 6, 2006 at 4 p.m. in the St. Ignatius Chapel, Commerce & Finance Building.
Colleague celebration occurs Dec. 16
Be sure to attend the UDM Employees Christmas & Colleague Recognition Celebration, Friday, Dec. 16, 3:30–5:30 p.m. in the Ballroom, Student Center. The Colleague Recognition program, which will honor 91 dedicated UDM employees [download list - pdf] for their years of service, will begin at 4 p.m.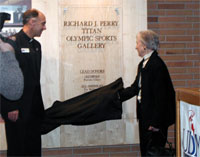 Perry Gallery dedicated
The Athletics Department dedicated the new Richard J. Perry Olympic Sports Gallery on Tuesday, Dec. 6. Named in honor of Detroit's longtime coach who led the Titans to the 1972 NCAA Fencing Championship and who passed away earlier this year, the Perry Gallery is located in the northwest vestibule of Calihan Hall. It includes three photo displays and a continuous slide show, all recognizing some of the great student-athletes and teams who have competed at the University. More ...
Medal artwork on display
The art show, "Medallic Works from the Foundry: An exhibit of medals by artists of the American Medallic Sculpture Association," will be on display Dec. 11, 2005 - January 11, 2006 at The Padded Cell, 519 S. Washington, in Royal Oak. Associate Professor of Chemistry Mark Benvenuto and student Meghann Mouyianis organized the exhibit. For more information, call 248-336-6633.
Thumbs Up!
Michael Bernacchi, professor, Business Administration, discussed the American economy and December retailing on Voice of America's special one-hour holiday business show, Dec. 9; he will appear again on Friday, Dec. 16. Voice of America is the international broadcasting service funded by the U.S. government, broadcasting to an estimated worldwide audience of more than 100 million people in 55 different languages.
Marian Woyciehowicz Gonsior, assistant coordinator of the American Language and Culture Program, co-presented a paper entitled, "Expand the Audience: Excellence in L2 Writing," at the Michigan Teachers of English to Speakers of Other Languages conference at Michigan State University, Nov. 12. The paper has also been accepted for presentation at the Michigan Academy of Science, Arts, & Letters' annual meeting at Oakland University in March 2006.
As students from the Fall 2005 Class of Nurse Anesthesia prepared to graduate this month, they decided to show their appreciation of Michael Dosch, associate professor and chair of the Nurse Anesthesia Program, and made a special gift to the University in his honor.