April 5, 2005
Honoring Pope John Paul II
The University of Detroit Mercy will honor Pope John Paul II with a memorial mass this Thursday, April 7 at 12 noon in the Lansing Reilly Chapel on the McNichols Campus. All are invited to come remember the Holy Father and pray for the needs of the Catholic Church in this time of transition.
The Archdiocese of Detroit will also honor Pope John Paul II with a special memorial mass for young people this Wednesday, April 6 at 5:15 p.m. at the Blessed Sacrament Cathedral, 9844 Woodward, Detroit.
CEC and Dining Services to host "Dining for Success"
The Career Education Center and Sodexho Dining Services are sponsoring "Dining for Success," a dinner designed to polish dining and interview etiquette. The workshop, featuring an elegant five-course meal will take place this Thursday, April 7 at 5:45 p.m. in the President's Dining Room on the McNichols Campus. Proper attire is required.
"Dining for Success" is part of a weeklong series of career builder workshops sponsored by CEC. For more information on these workshops and to pre-register for upcoming events, visit the CEC web site.
UDM Theatre Company and Marygrove College collaborate for the rock musical Godspell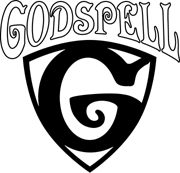 The UDM Theatre Company and Marygrove College have come together for a modern-day Detroit spin of one of the theatre world's favorite rock musicals, Godspell. The production features a unique view of Jesus and his followers as they re-enact parables and scenes from Jesus' life, based on the Gospel according to St. Matthew. Godspell will be performed April 7 through April 10 at the Marygrove College Theatre. There will be a talkback on April 10 immediately following the performance.
The discount ticket price for UDM faculty and staff is $13. Discount tickets for students are $3. To purchase tickets, visit the UDM Theatre box office located in Reno Hall, Tuesday through Friday, 11 a.m. to 5 p.m., or call 993-3270. Tickets can also be purchased at the Marygrove box office on performance days, Thursday and Friday from 6-8 p.m., Saturday 3-8 p.m. and Sunday 12:30-2 p.m. [more]
Over 50 local and national organizations participate in Earthfest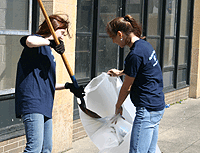 On Monday, April 4, the UDM Student Environment Club and the Institute for Building Sustainable Communities sponsored Earthfest, designed to raise greater awareness for social justice and environmental issues. Over 50 local and national organizations participated in this event, including the Sierra Club, the Michigan Interface Power and Light Organization and the Environmental Justice Coalition. The event concluded with a campus-wide cleanup coordinated by UDM's service fraternity Alpha Phi Omega (right photo).
Domestic Violence Committee to host spring lecture and panel discussion
UDM's Domestic Violence Committee will host its spring lecture and panel discussion, "Intimate Partner Violence and Homelessness," on Tuesday, April 19 from 5:30-7:30 p.m. in the Student Center Ballroom. Carla Groh, associate professor of Nursing, will discuss the relationship between intimate partner violence and homelessness followed by a panel discussion, featuring local providers dedicated to these issues: Detroit Rescue Mission Ministries, First Step and YWCA Interim House. The event is free and open to University and local community members.
Thumbs Up!
Sr. Mary Kelly, RSM, associate professor of Health Services Administration, published the article, "Sponsorship: Journey into Sponsorship's Future," in the March-April 2005 issue of Health Progress.
In March, Roy E. Finkenbine, professor of History, lectured on "Reparations for Slavery in American History" and "Black Abolitionists: America's First Civil Rights Movement" at the University of Melbourne in Australia.
Rosemary Weatherston, assistant professor of English, was invited to present her paper, "Killing Sylvia, Resurrecting Plath," at a panel hosted in March by The Academic Council of the Michigan Psychoanalytic Society and the Association for Psychoanalytic Thought. The panel was part of the Academic Council's 2005-2005 film studies series.