September 21, 2004
President Stockhausen's band to kick off Inauguration Week Celebrations
Monday, September 27, at 7:30 p.m., Calihan Hall


Don't miss your opportunity to see UDM President Gerard L. Stockhausen, S.J., perform live on stage when his band, Taking Stock, kicks off the Presidential Inauguration weeklong celebration as the opening act for Ruben Studdard. Among President Stockhausen's four band mates will be Gary Wright, S.J., director of University Ministry, and the Very Rev. Robert Scullin, S.J. Provincial, Detroit Province of the Society of Jesus. This great night of entertainment will also feature the two student finalists in the Titan Idol Contest – the winner to be chosen by the audience. The faculty/staff winner will also perform.
All students will receive one free ticket to the concert, available at the Titan Information Center in the Student Center until noon on Friday, September 24. Faculty and staff purchasing tickets to the concert will receive a special discounted rate of $20.
Volunteers are needed throughout Inauguration Week - especially for the Monday night concert and contest. At this time, there is high demand for ushers and ticket takers. For more information on Inauguration Week volunteer opportunities, please contact Jean Krystyniak at 993-1102.
Photo: Ruben Studdard
Red Mass
Tuesday, September 28, at noon, Sts. Peter and Paul Jesuit Church
The Red Mass marks the official beginning of the judicial calendar year each fall. Michigan lawyers and judges of all faiths attend this special event. President Stockhausen, S.J., will preside. A reception will follow in the atrium of the Law School, adjoining the church.
Lead and Serve in the Community
Wednesday, September 29
Several service projects are available to faculty, staff and students who wish to live out the inaugural theme, "Leadership and Service in the Our Community," with an afternoon of service. All full-time and full-time modified employees will have the opportunity to use up to four hours of paid release time. Visit the Inauguration web site for a listing of current projects or contact John Daniels at 993-1776.
Academic Symposium: "The Catholic University of the 21st Century: The Influence of Location on Mission"
Thursday, September 30 from 3-4:45 p.m., Gesu Church


On Thursday, September 30, Rev. Paul Locatelli, S.J., President of Santa Clara University, will explore the implications of UDM's commitment to "an urban and regional moral ecology." Because of its Mercy and Jesuit roots, argues Fr. Locatelli, UDM must reach for "a pedagogy that engages urban Detroit at its best and its most bedeviling." UDM, like any truly Catholic university, must not only study about its urban context, it must allow that urban reality to become part of the fabric of the university. More…
Photo: Rev. Paul Locatelli, S.J.
Dedications and Open Houses
Thursday, September 30, beginning at 5 p.m.
Dedications and open houses for Business Administration, Health Professions, Engineering and Science, Liberal Arts and Education, Dentistry, and Architecture will begin at 5 p.m. on the on the McNichols Campus.
Celebrate Spirit!
Friday, October 1, 10:30 a.m.-2 p.m., Calihan Hall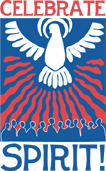 Celebrate Spirit! is the official welcome to the new school year for UDM faculty, staff and students, and is part of a long tradition dating from the founding of the great European universities in the Middle Ages. As part of this year's Presidential Inauguration Week, the ceremony will celebrate the inauguration of Rev. Gerard L. Stockhausen, S.J., as President of UDM with a special installation ceremony and procession. His Eminence Adam Cardinal Maida will preside at the Liturgy. More…
A picnic lunch around the Fisher Fountain will follow. Please note that the Loft and the Titan Dining Room will be closed from 11 a.m.-3 p.m.
To allow as many of our employees and students as possible to participate in the Installation Ceremony and the Celebrate Spirit Liturgy, all McNichols Campus offices will be closed for regular business on Friday, October 1 from 10:30 a.m. - 2 p.m. Please visit the Inauguration web site for the revised class schedule.
Inaugural Gala at the Detroit Opera House
Friday, October 1, at 6 p.m.
University employees can purchase two Inaugural Gala tickets at a discounted rate of $125 each, of which $25 is tax deductible. Seats are filling quickly! To order your tickets, contact Alumni Relations at udmgrad@udmercy.edu or 993-1540.