October 5, 2004
A Celebration of Great Things!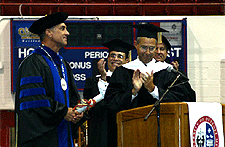 On Friday, October 1, a special Celebrate Spirit!: Installation Ceremony and Liturgy celebrated the installation of Rev. Gerard L. Stockhausen, S.J., as President of UDM. The ceremony included a formal academic procession, representing over 60 institutions of higher education, and the Mass of the Holy Spirit with his Eminence Adam Cardinal Maida presiding at the Liturgy.
Celebrate Spirit! was one of many University events scheduled during the weeklong celebration, attended by thousands of UDM colleagues, students, alumni and friends. On Monday, September 27, President Stockhausen, and his band of Jesuits, Taking Stock, kicked off the festivities as the opening act for American Idol star Ruben Studdard. The evening of entertainment also featured performances from the three student finalists in the Titan Idol talent contests. Communications Studies major Allyson Johnson won the competition with her performance of "God Bless the Child."
Presidential Inauguration events also included the Law School's Annual Red Mass; a day of faculty, staff and student service in the community, celebrating the Inauguration theme, "Leadership and Service in Our Community"; an academic symposium, discussing "The Catholic University of the 21st Century: The Influence of Location on Mission"; and faculty open houses and dedications on the McNichols Campus.
On Friday evening, an Inaugural Gala at the Detroit Opera House wrapped up the weeklong celebration.
Please visit the Presidential Inauguration web site for event photo albums and links to last week's press coverage.
Hands That Heal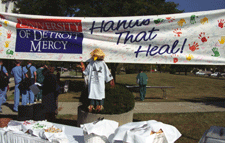 Five hundred UDM students, faculty and staff, including President Stockhausen, attended the fifth annual Hands That Heal picnic celebration on Monday, September 27. The collaborative effort between the School of Dentistry and the College of Health Professions, focuses on their common mission of healing. As part of the program, students, faculty and staff added their signatures to the Hands That Heal banner (right photo) that circulates to the many community service activities in which Dentistry and CHP students and faculty participate. Staff members completed the program with a blessing of hands.
CEC Information Sessions for Students
The Career Education Center (CEC) is sponsoring the following two events.
Ford Motor Company Information session
Tuesday, October 5, 5-7 p.m.
Room 113, Ford Life Sciences Building
DaimlerChrysler Information Session
Thursday, October 7, 5-7 p.m.
Rooms 118 and 119, Commerce & Finance Building
These information sessions are informal opportunities for graduating seniors and students seeking co-op and internship opportunities to learn more about the company and ask questions before taking part in campus interviewing. For more information, please visit the CEC web site.
Thumbs Up!
David Koukal, associate professor of Philosophy and director of the University Honors Program, read his paper, "Phenomenology Is Not Just Intuition but also Expression," at the 29th Annual International Merleau-Ponty Circle held September 30 -October 2 at Muhlenberg College in Allentown, PA.
Victoria Mantzopolous, professor of Political Science, will be WXYZ-TV and UPN-50's "Election 2004" Political Analyst this week. She will watch the debates in the news room on Friday evening and give her views for the 10 p.m. and 11 p.m. newscasts. Two UDM students will also join Mantzopoulos to express their views.
Judy McCown, associate professor of Psychology, and Mary Hannah, professor of Psychology, presented their paper, "Student Perception of Internet Teaching," at the annual meeting of the American Psychological Society in Chicago in May 2004. McCown and Hannah are both UDM Teaching With Technology Scholars.
Rita Tinetti, adjunct professor of Communication Studies, has had a photo published in Elizabeth Ficocelli's book, Shower of Heavenly Roses: Stories of the intercession of St. Therese of Lisieux.