October 19, 2004
High school students to visit UDM for Technology Day
From building a bridge out of tooth picks to dropping raw eggs from a second floor balcony, this and much more will occur at the UDM's Technology Day scheduled for Friday, October 22. Approximately 750 high school students from Metro Detroit are expected to attend the annual event, which will be held on the McNichols Campus. The event starts at 9 a.m. and will feature a chemistry magic show, a spooky biology presentation, student competitions and corporate displays. More…
Safety Street to provide safe trick-or-treating for local youth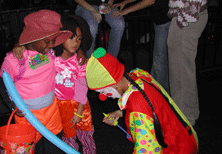 There is still time for University of Detroit Mercy faculty and staff to donate candy for UDM's 15th Annual Safety Street. Taking place this Friday, October 22, from 4-6 p.m. on the McNichols Campus, the event features a student-built Halloween town that allows community children to trick-or-treat in a safe, friendly environment. Candy passed out during the event is donated by UDM students, faculty and staff, as well as volunteers and local business owners. A University-wide competition is currently under way to see which department donates the most candy by Thursday, October 21.
Photo: Approximately 300 children, representing 20 schools and the Make-A-Wish Foundation, visited the McNichols Campus during last year's Safety Street.
Simba Maasia Cultural Performers to visit McNichols Campus
Two members of the Simba Maasia Cultural Performers, John ole Sakuda and Alice Kitapo Meshana, will discus Massai culture and demonstrate traditional dances on Friday, October 22, from 5:30-6:30 p.m. in Room 10 in the Briggs Building. Sakuda and Meshana, both from Kenya, will also have handmade jewelry on display. The event, which is co-sponsored by the African American Studies program and the University Student Speakers Committee, is open to the University community. For more information, please contact Gail Presbey at 993-1124.
UDM Town Hall Meetings
UDM President Gerard L. Stockhausen, S.J., invites the University community to join in the conversation at the first in a series of Town Hall Meetings on Tuesday, October 26. The meeting will begin at 12:45 p.m. in the Fountain Lounge in the Student Center.
UDM Theatre Company 2004-05 schedule


The UDM Theatre Company recently opened its 34th season with The Moonlight Room, which will run through October 24. Written by playwright Tristine Skyler, The Moonlight Room looks at the heartbreak of parents and teenagers struggling to understand one another amongst the madness of New York City. This year's UDM Theatre Company's schedule also includes Cycling Past Matterhorn (November 18 – December 5); A Patch of Earth (February 3-13); and Godspell (March 31 – April 10). Performances will take place in Marygrove College's newly renovated theatre Thursdays, Fridays and Saturdays at 8 p.m. and Sundays at 2 p.m. Tickets can be purchased at the UDM Theatre's box office, located in Reno Hall on the McNichols Campus, Tuesday through Friday from 11 a.m. to 5 p.m. For more information about UDM's Theatre Company, visit theatre.udmercy.edu. More…
Presbey receives Fulbright Scholar grant
Gail Presbey, associate professor of Philosophy, has been awarded a Fulbright Scholar grant to research Gandhi's 'Ahimsa' at Maharashtra Institute of Technology in Pune, India, during the 2004-05 academic year. Presbey is one of 800 U.S. faculty and professionals awarded this grant by the U.S. Department of State, Bureau of Educational and Cultural Affairs and the J. William Fulbright Scholarship Board.
Thumbs Up!
Gregory Sumner, professor and chair of History, is currently presenting his sixth annual film and discussion series on Thursday evenings at the Rochester Hills Public Library through November 4. Sponsored by the National Endowment for the Humanities, the topic of this year's series is the politics and culture of the 1960s.
Claire Crabtree, professor of English, has had her poem, "Three-Armed Woman," accepted for publication in the Summer 2004 issue of Cross Currents.
Michael Whitty, professor of Business Administration, will present, "Visioning the Economic Development of the Woodward Corridor Via Light Rail," at a regional conference at Wayne State University on November 19. The events is co-sponsored by the Institute for Building Sustainable Communities and Transit Riders United. Whitty also discussed UDM student attitudes toward the election on WXYZ-TV's (Channel 7) Spotlight on Sunday, September 26.