November 9, 2004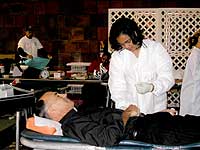 E & S Student Council sponsors Blood Drive
The Engineering and Science Student Council is sponsoring the Red Cross Blood Drive in the Fountain Lounge today. The Red Cross is actively looking for volunteers in response to decreasing blood supplies.
Photo: University of Detroit Mercy President Gerard L. Stockhausen, S.J., participates in the E & S Student Council-sponsored Blood Drive.

Poetry Reading
The English Department will welcome poets Karen Williams and Michael Lauchlan to the McNichols Campus on Thursday, November 11. The reading, co-sponsored by SENSOG and the Poets and Writers Form, will take place at noon in Room 209 of the Commerce and Finance Building.
Women's soccer team marks head to NCAA Tournament's opening round
The Detroit women's soccer team found out on Monday that it will travel to Columbus, Ohio and face off with the Michigan Wolverines in opening round action of the NCAA Tournament this Friday, November 12 at 4:30 p.m. inside Jesse Owens Memorial Stadium. This marks the first tournament appearance for Detroit in the program's 12-year history. [more]
CEC to host nonprofit career fair
The Career Education Center and the Leadership Development Institute will host Detroit's Inaugural Idealist.org Nonprofit Career Fair on Friday, November 12 from 12-4 p.m. in the Student Center Ballroom on the McNichols Campus. The fair (co-sponsored by the Michigan Nonprofit Association) will provide job seekers the opportunity to speak with nonprofit recruiters about employment, internship and volunteer opportunities. Several information sessions will also offer advice to students seeking a career in a nonprofit organization. More information about this event is available online at www.idealist.org.
Fall Open Houses
The School of Dentistry will hold its Fall Open House on Sunday, November 14 on the Outer Drive Campus. Prospective students and their family members will have an opportunity to meet faculty, administrators and admissions staff. Demonstrations throughout the clinic and simulation laboratory will also provide guests the chance to interact with current dental and dental hygiene students. For more information and to register, call 313-494-6650.
The McNichols Campus will also hold its Fall Open House during the month of November. On Sunday, November 17, prospective students will have an opportunity to meet advisors representing UDM's more than 60 academic programs; find out how to finance a UDM education; and receive on-site admission. For more information, e-mail admissions.events@udmercy.edu.
Downtown Detroit on the move!
Celebrate the opening of Downtown's Campus Martius Park during its grand opening weekend Friday, November 19 – Sunday, November 21! Opening night activities begin with ice skating demonstrations on Detroit's new outdoor rink at 5 p.m., followed by a ribbon-cutting ceremony at 6 p.m. and the lighting of Detroit's Holiday Tree at 8:40 p.m. Activities continue throughout the weekend, some of which include the grand opening of the rink with public skating on Saturday and Sunday, live performances, ice sculpting demonstrations, strolling performers and guided tours of historic Downtown buildings and districts. For more information, visit www.campusmartiuspark.org.
Academic Symposium VHS available
The Academic Symposium, "The Catholic University of the 21st Century: The Influence of Location on the Mission," held during the Presidential Inauguration week is now available on VHS in the McNichols Library. Rev. Paul Locatelli, S.J., president of Santa Clara University, discusses the implications of UDM's commitment to "an urban and regional moral ecology." University respondents include Sr. Elizabeth Linehan, associate professor of Philosophy, St. Joseph's University, and Sr. Maureen A. Fay, O.P., president emeritus, University of Detroit Mercy.
Thumbs Up!
Daniel Kennedy, professor of Sociology and Criminal Justice, recently completed the chapter, "Forensic Security and the Law, " to be included in the Handbook of Security, published by Perpetuity Press of Leicester, England.
Victoria Mantzopoulos, associate professor of Political Science, and the Political Science Student Organization sponsored a presidential public opinion poll, October 21-25. The event was coordinated by UDM students Andy Pouget and Jessica Sanfilippo. Approximately 50 students participated in calling over 700 tri-county voters. Kerry led the poll 58 percent to Bush's 40 percent. The Catholic vote was exactly split between Bush and Kerry.
Suzanne Mellon, dean of the College of Health Professions, has been promoted to Full Professor, effective October 22.
Gregory Sumner, professor of History, will serve as a judge in the Henry M. Campbell Moot Court Competition at the University of Michigan Law School this month. Sumner is a 1980 graduate of the U of M Law School.