November 16, 2004
Hunger Week 2004
UDM's Student Senate Mission & Values Committee is sponsoring Hunger Week, November 13-18. Hunger week is a collaborative effort between all University departments and organizations in order to show support and solidarity with the hungry, impoverished and homeless. [Read more]
Colleague Waited Thanksgiving Meal
The Colleague Waited Thanksgiving Meal is next Tuesday, November 23 from 4:30–6:30 p.m. in the Titan Dining Room. This annual event provides faculty and staff the opportunity to reach out to students on a personal level. Two one-hour time slots are available for participants: 4:30–5:30 p.m. (arrive at 4:15 p.m.) and 5:30–6:30 p.m. (arrive at 5:15 p.m.). If you are interested, please e-mail Rachael Wade, Annual Events director of the Student Programming Board, at wadera@students.udmercy.edu, indicating your preferred time.
Support Your Colleagues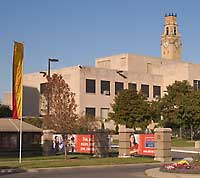 You are what makes your University the strong educational institution it is today. We want to thank you for all of your support, and remind you that all gifts - large and small - make a difference. You can make a gift through payroll deduction, which makes giving even easier. Choose to donate to the Fund for UDM, which gives us the greatest flexibility in utilizing your gift, or designate the funds you donate to any cause at UDM: a specific college or school, athletic equipment, service programs, or scholarships, just to name a few. If you've given in the past, please consider increasing your donation through payroll deduction this year to make an even greater impact. Imagine cutting-edge technology, campus revitalization, new buildings and facilities and invigorated student life. Please visit our web site or call Sam McCrimmon, director of Annual Giving, at 993-1250. We welcome the opportunity to speak to you confidentially about your continued support of the University!
New course examines "Reparations for Slavery"
Beginning Winter 2005, UDM will offer a course examining the question of reparations for African American slaves and their descendants from moral, philosophical and historical perspectives. [Read more]
Thumbs Up!
Roy E. Finkenbine, professor of History, presented the paper, "Belinda's Petition: Reparations for Slavery in Revolutionary Massachusetts," at the Great Lakes History Conference in Grand Rapids, Michigan, on Saturday, October 30.

Betty Nelson (right photo), head of circulation at the McNichols Campus Library, was locked up by the Muscular Dystrophy Association on Wednesday, November 9. Nelson was "kidnapped" from the McNichols Campus in a limousine and taken to Ford Field, where she posted bail. Nelson thanks UDM colleagues for contributing $825 towards her bail, which will benefit Detroit area children with Muscular Dystrophy.
Barbara Purifoy-Seldon, associate professor of Periodontology and Dental Hygiene, was honored as the Southfield Veterans' Citizen of the Year for 2004. She is recognized for the many contributions she has made as an advocate of veterans' rights. On Wednesday, November 10, a formal ceremony was held on the lawn of the Southfield Pavilion, dedicating Veterans' Day 2004 as Barbara Purifoy-Seldon Day.
Michael Whitty, professor of Business Administration, addressed the Coalition of Labor Union Women about "Building Community after the Election - Toward Sustaining a Live and Let Live Future" on November 9. He also recently discussed, "Becoming a Spiritual Elder and Building Your Life Legacy," at the Renaissance Unity Men of Today Breakfast.