December 7, 2004
Town Hall meeting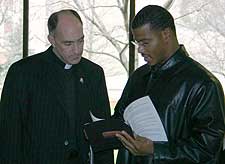 Approximately 75 faculty, staff and students joined University of Detroit Mercy President Gerard L. Stockhausen, S.J., for the second in a series of Town Hall Meetings on Thursday, December 2. These meetings – scheduled throughout the academic year – open with a brief update on University affairs, followed by a Q & A session with Fr. Stockhausen.
Photo: Fr. Stockhausen answers questions after last week's Town Hall meeting.
UDM Press to hold special reception for new book
University of Detroit Mercy Press, Broadside Press, and Springfed Arts: Metro Detroit Writers will celebrate the release of the publication, A Different Image: The Legacy of Broadside Press, Tuesday, December 7, from 7-9 p.m. at the The Scarab Club (217 Farnsworth, Detroit). The evening will include a brief presentation and reading, followed by a reception with refreshments and music. The event is free and open to the public.
Year-end gift giving ideas
We want to thank you for all your support of this great institution and remind you that it's a great time to make a year-end donation. All gifts – large and small – make a difference. Choose to donate to the Fund for UDM, which gives us the greatest flexibility in utilizing your gift, or designate the funds you donate to any cause at UDM: a specific college or school, athletic equipment, service programs, or scholarships, just to name a few. Your gift can be made through payroll deduction, making giving even easier. If you've given in the past, please consider increasing your donation through payroll deduction this year to make an even greater impact.
If you are interested in making a year-end gift, or if you would like more information, please call Sam McCrimmon, director of Annual Giving, at 993-1250. We welcome the opportunity to speak to you confidentially about your continued support of the University!
Celebrating Mercy heritage
December 12 is recognized throughout the world as the Foundation Day of the Sisters of Mercy. While Mercy Day (celebrated on September 24) recognizes the opening of the first House of Mercy in Dublin, Ireland, by Catherine McAuley, Anna Maria Doyle and Catherine Byrn, Foundation Day celebrates the day that McAuley, Doyle and Byrne professed their vows as the first Sisters of Mercy in 1831.
Thumbs Up!
Barbara E. Harrison, assistant professor of Nursing, has had the manuscript "Alzheimer's disease behaviors from past self-identities: An exploration of the memory and cognitive features," accepted for publication in the American Journal of Alzheimer's Disease.