August 24, 2004
Convocation welcomes a new academic year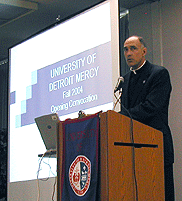 University of Detroit Mercy's new president, Gerard L. Stockhausen, S.J., shared good news while addressing the State of the University at last Thursday's Convocation, reporting a continued trend in the rise of full-time enrollment. Fall enrollment will see a significant growth in graduate and professional students, as well as new undergraduate students. He also addressed recent cutbacks in the budget, reporting that there will be no need for further cutbacks as long as the University stays "budget disciplined."
President Stockhausen's mantra for the academic year is, "The best source of new resources is the reallocation of existing resources," as he expressed the need for enhancements in several university areas, including: classrooms and housing; IT infrastructure; and student life activities and facilities.
The new Vice President for Academic Affairs and Provost, Barbara R. Schirmer, Ed.D., also shared her agenda for the upcoming year, which will focus on the following areas:
Shared governance
Assessment for continuous improvement and accreditation
Curriculum and program development and review
Enhanced use of technology for teaching, learning and problem-solving.
Great opportunities to be involved!

Our Presidential Inauguration theme is "Service and Leadership in our Community." To help the University concretely live this out during the upcoming academic year, President Stockhausen announced at Convocation the opportunity for all full-time and full-time modified employees to use up to four hours of paid release time this fiscal year to volunteer their services to a non-profit organization. A variety of opportunities are organized for Wednesday, September 29, of Inauguration Week.
Time off must be requested and approved by the supervisor. If employees are participating in a University-sponsored service opportunity, they simply need to show up at the time and place indicated. A record of their attendance will be forwarded to Human Resources for processing. If employees are participating in a non-University-sponsored service opportunity, they must provide Human Resources with a letter from the organization indicating the employee's name and date served. Employees must attach this to their timecard.
All employees must indicate Community Service and the number of hours served on their timecard. Kronos Users should use the new "Community Service" comment code. Community Service will act as time worked.
If you have any further questions about procedures for this, please contact Human Resources at hr@udmercy.edu. Watch future issues of Campus Connection for Inauguration service opportunities.

Great Things for UDM!
UDM receives high rankings in U.S. News and World Report's "America's Best Colleges," as it enters the Top 25 of Midwestern master's universities - the highest ranked of all Michigan schools in this category. UDM is also featured as one of only 15 Midwest universities in the magazine's "Great Schools at Great Prices" category and as number six in the Midwestern category for "Campus Diversity." The 2005 edition will hit newsstands in September.
Wednesday morning reflections on Catherine McAuley
The House of Mercy invites you to attend morning reflections on Catherine McAuley, the foundress of the Sisters of Mercy. The reflections, co-facilitated by Sarah Swart, director of Instructional Technology and associate for Sisters of Mercy, and Theresa Blaquiere, RSM, a resident at the House of Mercy, will take place Wednesdays from 8 - 9 a.m. during the fall semester, beginning September 15. The sessions will include bagels and coffee and will allow extra time for those with 9 a.m. classes or appointments. There will be no session on September 29.
For more information, please contact Sr. Theresa Blaquiere at 313-340-1162 or Sarah Swart at 313-578-0579.

Thumbs Up!
Marian Woyciehowicz Gonsior, assistant coordinator of the American Language and Culture Program, conducted a day-long training workshop for teachers in the Plymouth-Canton Community Schools on June 29. Training topics included second language acquisition and methods and materials to support English-language learners in the regular classroom.
The Dudley Randall Center for Print Culture, directed by Rosemary Weatherston, assistant professor of English, was awarded a grant from the State of Michigan Council of Arts and Cultural Affairs, a partner agency of the National Endowment for the Arts, in support of the anthology, A Different Image: The Legacy of Broadside Press. The publication will feature the work of poets Gwendolyn Brooks, Audre Lorde, Etheridge Knight, Haki Madhubuti, Sonia Sanchez, and Dudley Randall.